Family Visits
We are proud to present a year round diverse family programme. From magical retellings of family favourites to interactive storytelling sessions, there's something for all ages to enjoy.

As well as this, we often have free, family friendly exhibitions in our gallery spaces and you can find our Art Trolley in our foyer space to help budding young artists busy! 
We are also home to Hexham Library (open Monday - Saturday, 9am - 5pm) which has a dedicated children's book area, a magical storytelling chair and a craft table.  
If you are coming to one of our performances with children, we have booster seats and cushions to help with their line of sight (just ask a Steward!). Pushchairs and car seats cannot be taken into performance spaces, there will be a designated area for them to be left in the foyer. Please note that pushchairs and car seats are left at owners risk and valuable belongings should be removed.
The Queen's Hall Café has a range of food and drinks available, including a dedicated Children's Menu. There is a microwave to heat baby food, and a Tommy Tippee Perfect Prep machine. The furniture is also arranged to make buggies easy to get in and out.
We are proud to be signed-up to the Family Arts Standards with the Family and Childcare Trust. Find out more about the Family Arts Standards.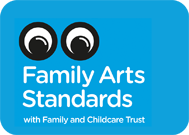 Find out more...