Hello, welcome to Queens Hall Arts Centre
The Creative Heart Of The Community
A Creative Venue For All
Queen's Hall Arts is a charity and multi-purpose Arts Centre based in the heart of Hexham serving West Northumberland, the wider North East and beyond. 
Stunning spaces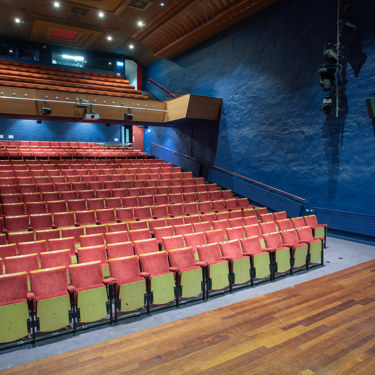 Queen's Hall Arts Centre boasts a 350-seat theatre, a 50 seat Studio Theatre, art galleries and beautiful White Room available to hire.
Visit Us
Queen's Hall Arts Centre is located in the centre of Hexham. Check out our Visit Us pages which includes information about how to find us, where to park and our accessibility information among other good-to-know things.
Box Office opening hours are:
Mon - Sat: 10am – 12pm | 1 - 4pm
Open one hour prior to performances
Help us by making a donation.
Queen's Hall is a registered charity. We aim to keep ticket prices as low as possible to make the highest quality Arts and Culture accessible to our community. If you can help us by making a donation, it will play a huge part in helping us remain a vital part of the community.
Get creative. Get involved.
We believe in the transformational power of the performing arts, providing high quality opportunities to engage with the arts in many different ways, all year round.

There are lots of ways you can get involved, from artist call outs and projects engaging young people and communities, to becoming a volunteer or joining our ever-popular Youth Theatre groups!