The Tiger Who Came To Tea The Exhibition
23 September - 18 November
Tickets: Free
Gallery One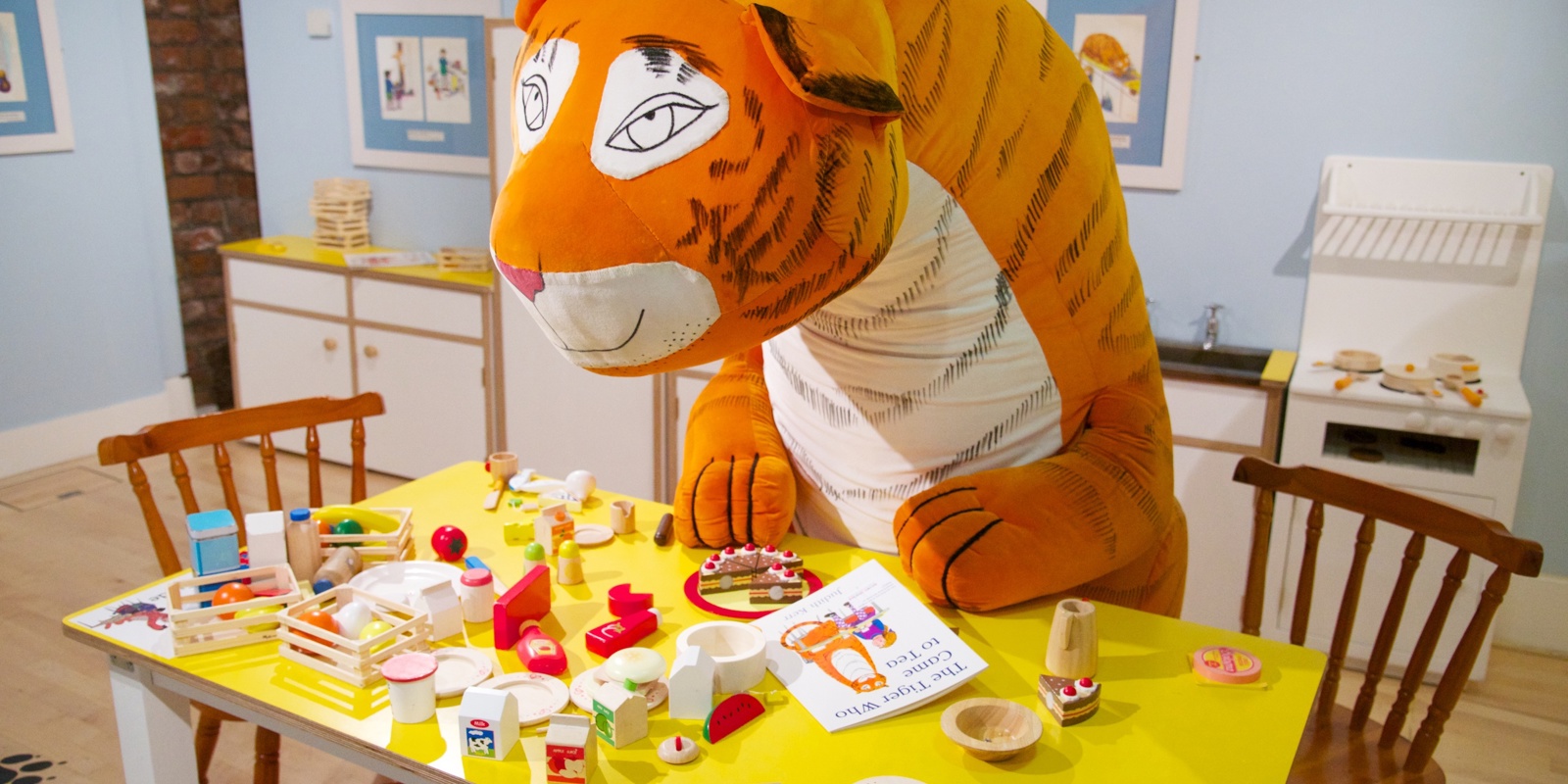 Main Information

About Judith Kerr

Additional Images
Celebrating 100 Years of Judith Kerr.
Open Monday - Saturday: 10am - 4pm
Queen's Hall is delighted to present an exhibition that will explore the life and celebrate the work of one of Britain's best known author-illustrators for children, Judith Kerr.
Commemorating the centenary of Judith Kerr's birth and celebrating her incredible contribution to children's literature, The Tiger Who Came to Tea the exhibition, originated by Seven Stories, the National Centre for Children's Books, features high quality facsimiles of Judith Kerr's original illustrations from the Seven Stories collection and promises to re-introduce the beloved picture book to a new generation.
Judith Kerr's first picture book, The Tiger Who Came to Tea, published by HarperCollins Children's Books, began as a bedtime story for her own children and was published in 1968. It soon became a classic and by the time it celebrated its 40th anniversary in 2008, it had been translated into 11 languages and sold over five million copies. Alongside facsimiles of original artwork, notes and sketches, children will enjoy stepping into Sophie's kitchen to have tea with a life-size tiger.



Judith Kerr was born in Berlin in 1923. Her father, Alfred Kerr was a celebrated German-Jewish writerand theatre critic, well-known for his anti-Nazi views. As Hitler rose to power the family were inincreasing danger. In1933, following a tip-off that his passport was about to be seized, Judith's father escaped, followed shortly afterwards by the rest of the family. They lived in Switzerland and France before finally settling in London in 1936, where they remained throughout the Second World War and where Judith has lived ever since.

Judith's talent for writing and drawing emerged at an early age. After the War she trained at the Central School of Arts and Crafts and made a living from painting, teaching and textile design followed by a brief period of writing and script editing for the BBC. In 1954 she married Nigel Kneale, writer of the celebrated BBC science fiction series Quatermass. It was not until the couplehad children of their own that Judith turned to children'sbooks as a career. Her first picture book,The Tiger Who Came to Tea, which began as a bedtime story for her children, was published in 1968 and has remained in print ever since. Mog the Forgetful Cat, another perennial favourite, followed in 1970. Judith has also written three celebrated semi-autobiographical novels for children, the first of which, When Hitler Stole Pink Rabbit, documents the story of the family's escape from Nazi Germany and their early years as refugees. Until her sad death in 2019, Judith continued writing and illustrating.